VIOM
Started testing the VIOM today. We tested it out with a door contact - which after a little effort worked fine - and used it to try the blind control/switch that Tracy mentioned in an earlier entry.
We tested the Centralis with a voltmeter and it appeared to be doing exactly what we'd hoped. The motor voltage can be controlled through the up, down and stop switches on the front of the unit: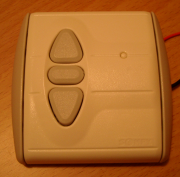 and through the two momentary electrical inputs on the back: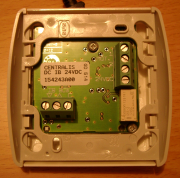 Sadly we couldn't actually get the motor running through the Centralis because we were trying to get away with using a 12V supply and it really requires 24V. I've ordered a 24V supply and hopefully we can get it working as soon as that arrives.