Pulsar lighting
We've had the Pulsar ChromaZone12 controllers for ages but we've only just got around to ordering the lamps. We ordered four MR16 Chroma Hearts from A.C. Lighting.
They look great.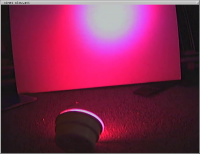 I can't wait to see them in the en-suite shower. They are brighter than I expected which is good because it means we should get away with just two for the shower leaving a couple spare for elsewhere.
I decided to experiment creating a small video. It works on my Linux box but might not be useable on Windows.