First Blind
Since we couldn't find suitable blind material being sold separately, we resorted to buying the cheapest Faber Blind with the material we wanted. Pulling the material off the blind and attaching it on our pole was a little daunting. (Not to mention the difficulty of finding a large clean space to work in.) We decided to use velcro rather than the usual double-side sticky tape, which I think made it even more difficult to make sure that the material was aligned properly. However, the end result looks pretty smart: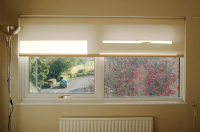 I'm sure it will look even better when the cables (on the right) are attached properly. We can't really make those cables live until work has finished in the currently dusty node 0.
In case you are wondering, the velcro is to give us the potential to use blackout blinds during the summer.